Free Download Bollinger Squeeze V4 Forex Indicator Mt4
Bollinger Squeeze v4 is a forex trading system. Bollinger Squeeze v4 is completely based on the Bollinger band indicator. At the bottom of the chart, in an indicator window, you can see Bollinger squeeze v4 indicator which is composed of the histogram bars. Bollinger Squeeze v4 system has been created by using the custom made Bollinger band indicator. Although the basic formula used in Bollinger band is remained same, the way it is displayed and used here is different.
While using Bollinger squeeze v4 there is only one thing you should see i.e. whether the Bollinger squeeze is in positive territory or negative territory. Besides that you should also watch the major trend of the market so that you will be in the direction of the trend. Bollinger Squeeze v4 works best on trending market. It might be terrible in a flat market conditions so be careful before choosing the right currency pair to trade. Regarding the time frame you can trade in any time frame higher than 15 minutes. It doesn't mean that you cannot make profit by trading in a 5 min chart, of course you can but the market is quite complex when the time horizon shrinks so better choose the higher time frames.
You can trade with any currency pairs using Bollinger squeeze v4 forex trading system provided that you can accept the spread differences in them.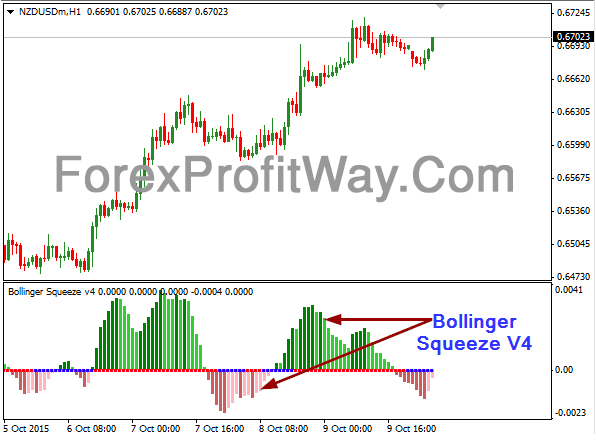 Download Now
or
Don't Miss Pro Indicators And Trading Systems