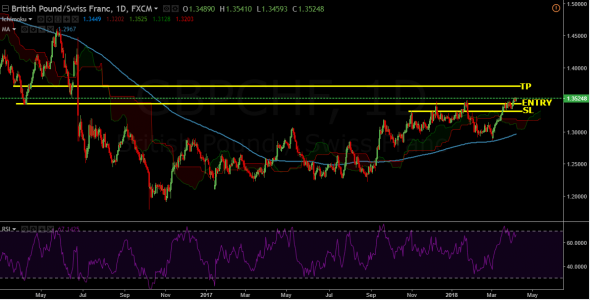 BUY GBP/CHF @ 1.3465 Swing Cool Trade!
Forex Signal 9/4/2018
BUY GBP/CHF @ 1.3465   TP: 1.3696  SL: 1.335
Our Analysis
As not all people believe in the Dollar weakness, and any news about changes in newest Trump's tariffs could move the greenback anywhere, we also like this trade in GBP/CHF to take advantage on the Pound strength. BoE's Carney made no remarks on economy or policy in a prepared speech this morning. Franc closed the week as the worst performer, again.
Technically, the GBP/CHF is breaking an adamant resistance and is reaching the highest level of the last 2 years. In the pullback to that zone, we opened Longs towards the next technical level.
Don't Miss Pro Indicators And Trading Systems