Free Download 3 SMA Pip Machine Trading System For Mt4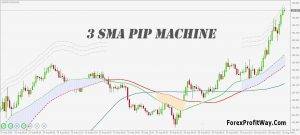 3 SMA Pip Machine is a simple Forex trading system based on three moving averages and a trend filter. You can download 3 SMA Pip Machine for free and test it out on a Demo account now.
In its essence, this Forex system is based on the same 2MA simple Forex trading strategy.
How to trade with 3 SMA Pip Machine
The Forex trading system can be used for different trading styles including scalping and day trading. Therefore, time frame, currency pair, and trading session depends only on your preferences. Although London and US trading session should be used for scalping.
When choosing which currency pair to use with 3 SMA Pip Machine system, you should avoid:
Instruments in consolidation; trend filter found at the bottom left corner should help.
Flat or mixed moving average slopes displayed on the chart.
Conditions to enter the market
When entering the market in the trend direction, defined by a larger time frame, you should take a crossover of red and green SMAs with blue SMA as a signal to long or sell accordingly.
To simplify this, Blue bars formed between the SMAs signal to buy, while red bars signal to sell. Whenever the bars increase in size, this signals that the trend remains strong and you should hold your position.
Conditions to close a position
However, when the bars begin to shorten, this indicates that the trend is weekending and you should look to book your profit. Exit points could be at nearby support/resistance levels, other major points, or the red SMA.
Stop loss should be used at nearby support/resistance levels or recent highs.
Download Now
or
Don't Miss Pro Indicators And Trading Systems