Download Forex Profit Supreme No Repaint Easy Profitable Strategy For Mt4
Download Forex Profit Supreme easy profitable strategy For Mt4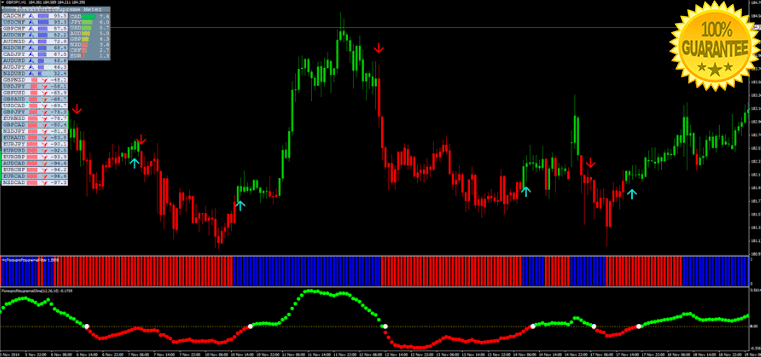 Forex Profit Supreme is trading system designed for intraday trading. It signals the entrance to the market grounded on the measurement of six indicators. The peculiarity of this intraday forex strategy is that it was created by the authors for beginners and it does not require any serious skills.
Characteristics of Forex Profit Supreme
Platform: Metatrader4
Currency pairs: Major
Trading Time: Intraday
Timeframe: M15 and higher
Recommended broker: EasyMarkets
Used indicators:
ForexProfitSupreme Meter – an indicator which is in the left corner of the graph and is used in the strategy for monitoring the current situation on the market for currency pairs. The number next to a pair of stands for the force of its movement is currently and direction. To the right is a column with the currencies where you can see the most actively traded currencies (not pairs), and depending on it to consider them in selecting a tool for trade.
ForexProfitSupreme Bars – color candles in red or green color throughout the area depending on the direction of the trend.
ForexProfitSupreme Clocks – indicates the time remaining until the close of the current candle.
ForexProfitSupreme Signal – signal in the form of an arrow indicating the direction of prices.
ForexProfitSupreme Filter – indicator which is used to filter and screen out false signals fed to the previous indicator.
ForexProfitSupreme Dline – filter giving the final signal to enter the market.
Algorithm for signal analysis:
We analyze the most active pairs by the indicator ForexProfitSupreme Meter and preselect tools.
After receiving a signal from the indicator ForexProfitSupreme Signal check on the first indicator as currently actively traded currency pair is selected.
We look at the filters strategies and decide to enter the market.
Rules for opening a long position: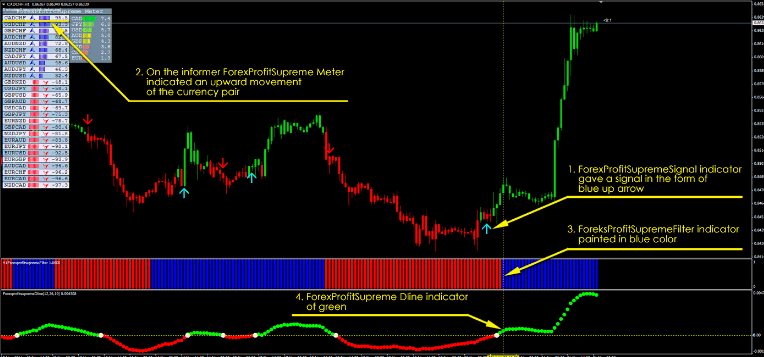 ForexProfitSupremeSignal indicator gave a signal as a blue up arrow.
On the informer ForexProfitSupreme Meter indicated the upward movement of the currency pair.
ForeksProfitSupremeFilter indicator is blue.
ForexProfitSupreme Dline indicator is green and is located above the zero line.
Rules for opening a shot position: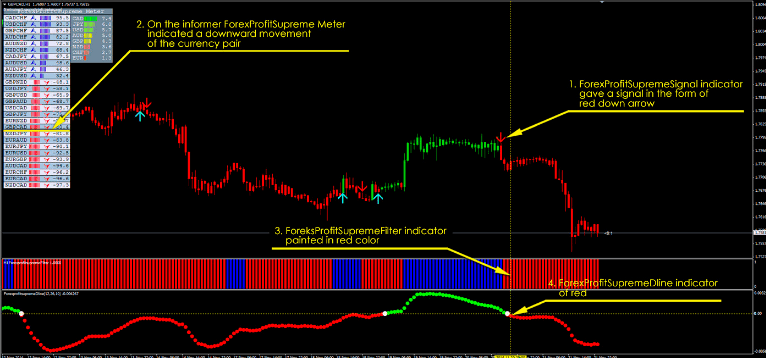 ForexProfitSupreme Signal indicator gave a signal as a red down arrow.
On the informer ForexProfitSupreme Meter indicated the upward movement of the currency pair.
ForeksProfitSupremeFilter indicator is red.
ForexProfitSupreme Dline indicator is red and is located below the zero line.
Exit of position in this strategy is carried out after the appearance of current trend opposite signal indicators.
THIS POWERFUL SYSTEM INCLUDES
You Have Full Control – there is no 'automation' or trading 'for you'. You quickly learn to spot trend direction and trade like a pro' yourself – in just minutes a day!
Sniper-accurate trades will put you on 5% of winners side
No Chart Monitoring Required – system comes with full package of alerts you ever need
No thinking, analysis or market study required
No trading experience necessary
Installs in minutes and can be used immediately
You have complete control and make the final decision on all trades
Advanced stop-loss system dramatically lowers risk and protects your earnings
No minimum trading amount
Free of "Up-Sells" Many people are selling 'easy Forex' but as soon as you it they scare you into thinking you need their "advanced program"
Template – Because it puts everything in place and makes your life easier, and of course you get…
Works on ANY Currency Pair! Forget being stuck with silly systems restricting you to USD/CAD or USD/CHF. The real money-making pairs aren't usually so obvious…
Bulls or Bear Markets, BOTH can Make You Money – you don't have to care!
Examples Of Trades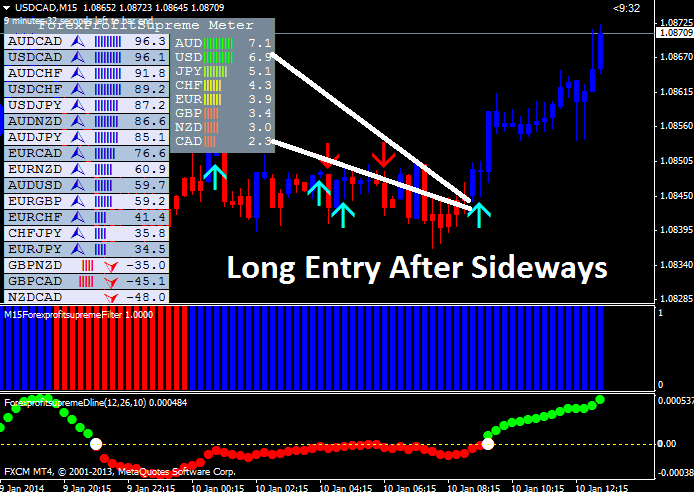 Example above is USD/CAD 15min, long trade which ended with 70 pips profit.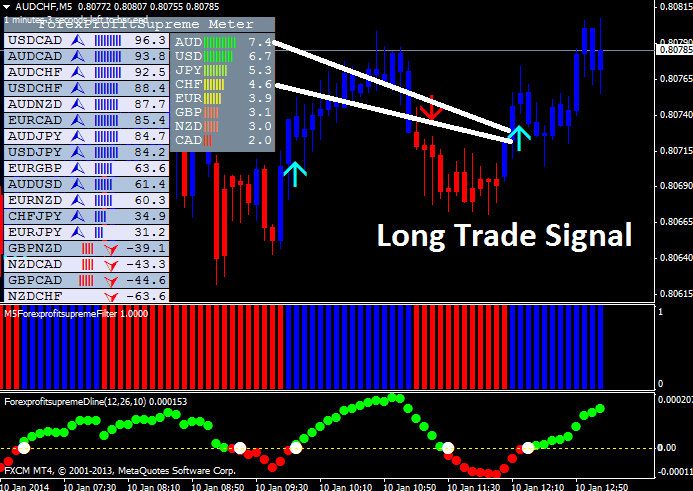 Example above is AUD/CHF 5min, long trade which ended with 45 pips profit.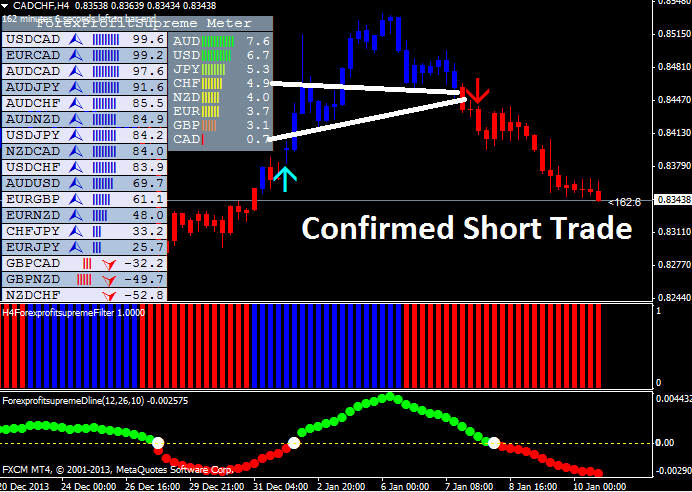 Example above is CAD/CHF 4h timeframe, short trade which ended with 160 pips profit.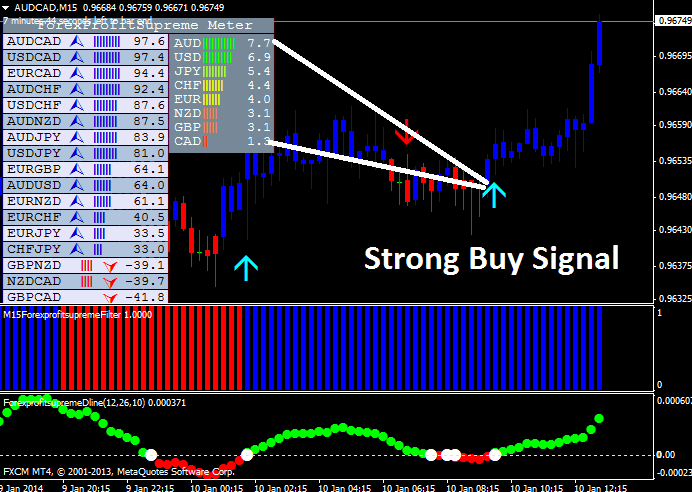 Example above is AUD/CAD 15 min. timeframe, ForexProfitSupreme Meter indicates AUD currency pressure so as confirms buy signal.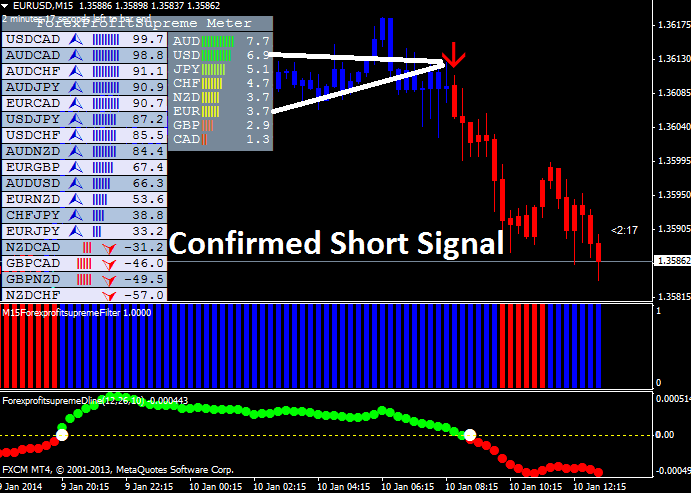 Example above is EUR/USD 15 min. timeframe, short trade confirmed by indicators.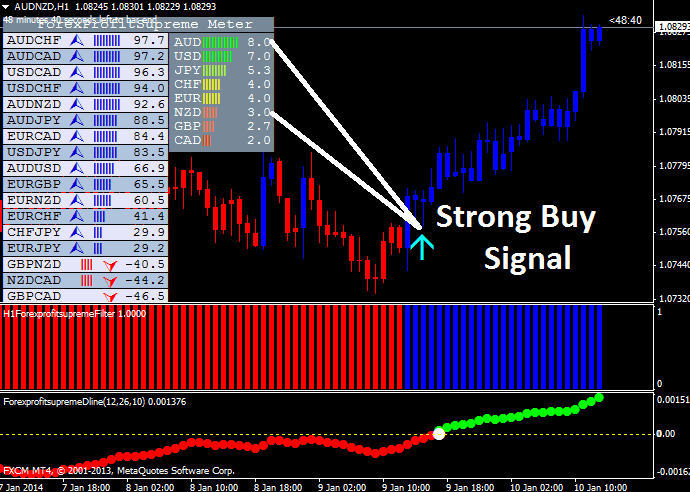 Example above is AUD/NZD Hour timeframe, long trade which moved to profit instantly.
Please note that the strategy does not work when there is no confirmation of one or more indicators.
In the trade, it is desirable not only to confirm the presence of ForexProfitSupreme Meter the preliminary signal supplied ForexProfitSupreme Signal, but the coincidence actively traded currency with one of the currencies traded in pairs. It amplifies the signal and increase the percentage of successful trades. As well right at the top of the table with the currency is located the most expensive in relation to other currencies, and below is the cheapest.
You will be forwarded to download after purchase
BUY NOW
35 USD
19.99 USD
Skrill Option
If you would like to pay through Skrill, log in or create a Skrill account and send $19.99 to forexprofitway1@gmail.com with message "Download Forex Profit Supreme No Repaint Easy Profitable Strategy For Mt4" and you will receive download information within 24 hours.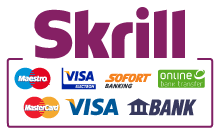 Don't Miss Pro Indicators And Trading Systems